IK Multimedia Axe IO Review
Axe I/O audio interface and controller was built by IK Multimedia Production company. In essence, this brand started out in 1996 and ever since they've been expanding and putting out premium quality sound gear and gadgets.
The Axe I/O interface is a brand-new model within the budget price range and it offers premium value and performance for the money. It's still a young interface since it was released on the 17th of January this year, but even so many famous musicians have grown to like it, such as Joe Satriani for example.

More Info
Joe Satriani talks AXE I/O and AmpliTube for recording guitar
Tech talk
There are many features onboard that you won't find in the vast majority of audio interfaces. First and foremost, the connectivity of the IK Multimedia Axe IO is impeccable since it provides triple-topology, a convenient input circuit supplied with Pure, as well as JFET stages, the Z-tone impedance adapting circuit, and more. 
The aforementioned input stages allow you to easily transition between transparent to tube like sounds while the Z-tone impedance adapting circuit picks up the signal from your magnets and boost them with additional flexibility.
The Axe I/O also sports a dedicated amp-out feature which allows you to process the recordings with real amplifiers and stompboxes, so you don't need any external accessories whatsoever.
The AmpliTube 4 package can be integrated with the IK Multimedia Axe IO's software, creating a highly customizable virtual rig. Additionally, this interface also comes supplied with microphone inputs, line outs, and MIDI in/out. 
What can you do with Axe I/O?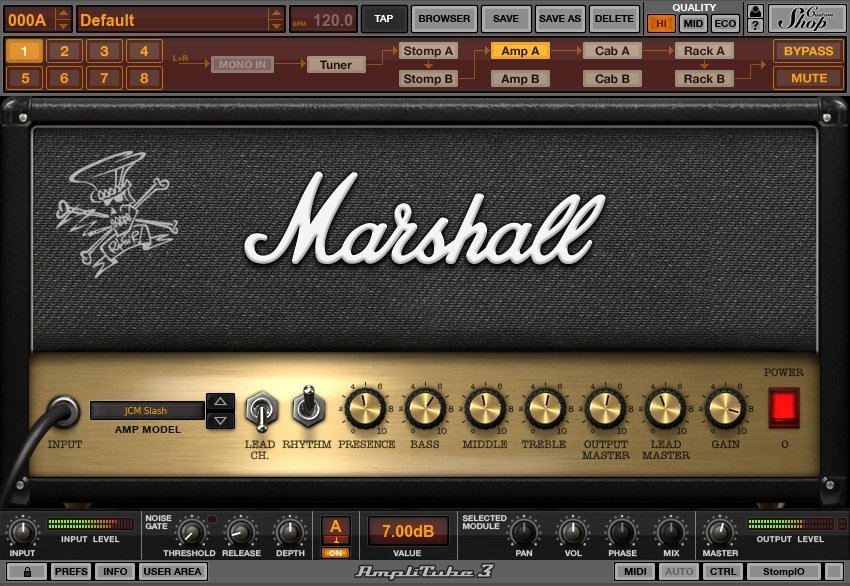 Firstly, you can record your music in a very easy way. The installation process of the software is fairly straightforward, and the interface itself is quite user-friendly. Aside from recording, you can find your own tone with the AmpliTube integrated software.
Essentially, this is a virtual rig that comes supplied with numerous amp and stompbox presets. Suffice to say, even musicians who have premium-quality rigs could confirm that there's a staggering amounts of available sounds for you play around with.
Additionally, the Axe I/O bundle comes with a complementary tuner feature. This means that it possesses everything you need to simply plug in and play – all you need is your instrument.
Who is it for?
Essentially, IK Multimedia Axe IO audio interface  is a great all-in-one solution for guitar players. It performs great and comes at a very approachable price, so there's no reason why you shouldn't consider it regardless of your skill level. 
Overall, the interface can accommodate the needs of beginner producers and seasoned veterans alike. A guitarist looking for easy ways to record tracks at home will find many uses for the IK Multimedia Axe IO.
PROS
Built-in tuner

Huge software bundle is included (AmpliTube 4 Deluxe, Ableton Live 10 Lite and 10 T-RackS mixing plug-ins).

Amp-out with re-amping capabilities

Great build quality

Great preamps
CONS
You might feel a bit of a delay under your fingers
Amplitude 4 has a bit of a learning curve

Some of the most famous simulators (Fender, Mesa Boogie) need to be purchased standalone
Verdict
What separates the IK Multimedia Axe IO from the rest in this price range is the fact that it offers both quantity (in terms of features and versatility) and quality superior to the vast majority of models at the same or similar price. 
If you're looking for an interface and you don't feel like paying an arm and a leg for it, this might be the perfect solution for you.

IK Multimedia AXE I/O premium 2-in 5-out 24-bit,...
High-resolution recording: Capture every detail with AXE I/O's 24-bit, 192 kHz dac converters and two...
Advanced guitar tone shaping: Get the perfect sound with Z-Tone impedance-adapting circuit, Active/Passive...
Massive software bundle: Includes AmpliTube 5 and TONEX SE, giving you over 50,000 guitar tones, capturing all...
Last update on 2023-09-26 / Source: Amazon