A proper audio interface is one of the most important pieces of gear in any computer-based recording studio. Your interface pipes all of your audio signals in and out of your computer.
It's a part of every signal and sound you make and, therefore, is a crucial choice when setting up to record.
Are all interfaces created equally? Absolutely not.
They all have their own particulars, especially when it comes to getting killer guitar sounds, and should be investigated thoroughly.
Today, we are meeting here to discuss what we feel are the best sounding audio interfaces for guitar recording. Ready to dive in?
UAD Arrow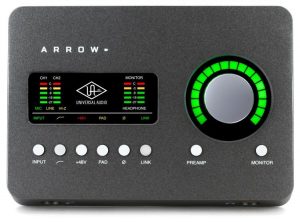 Click to compare prices: Amazon | Musician's Friend | zZounds
The UAD Arrow is, hands down, the best audio interface for guitar in its class. It's the first Thunderbolt 3-powered desktop interface for both Windows and Mac.
It's built around two of UAD's Unison microphone preamps and highly-regarded audio converters descended from the company's iconic Apollo interfaces and it delivers the most compelling sound in its price range.
It also comes loaded with a set of onboard UAD plug-ins that make getting album-worthy results a snap.
With its Unison technology and built-in UAD-2 SOLO Core processor, you can record through classic pieces of kit including the 610 Tube Preamp, LA-2A and 1176 compressors, and a genuine Marshall Plexi.
Did I mention that you can do all of this with almost no latency regardless of your audio buffer setting? Well, you can. Just thinking about adding one of these to my rig sets my heart aflutter.
Arrow's proprietary Unison technology is the key to all of this magic. The integration of hardware and software in the Arrow is unlike anything else on the market.
All you have to do is throw a Unison preamp plug-in onto your mic input via Arrow's Console software and you're ready to get down with preamp models from API and Neve, amp emulations from Marshall and Fender, and a whole lot more.
Not only do you get the sounds of these legendary devices but they come complete with their signature impedances, gain stage "sweet spots," and circuit behaviors. This means that Arrow feels like a real amp when you play through it.
What's even more happening is that the SOLO Core processor takes the burden off of your computer. All of this happens before your signal even hits your CPU. This is why latency is a non-issue when using Arrow.
Any guitar player seeking a new interface to bring their tones to the world needs to give Arrow a serious look and listen.
PROS:
Near-zero latency.

Full suite of onboard plug-ins.

Award-winning preamps.

Built-in UAD-2 SOLO Core processor!

Everything is included to record killer guitar sounds, plug in and start recording.
CONS:
Solo core processor can only handle 2-3 UAD plugins at once. So if you need more processing power, check out

Twin MKII DUO or MKII QUAD

instead.

On-off switch would be nice!
See how it sounds
Pete Thorn's Top UAD-2 Guitar Tones, Tone #7 Marshall/Softube Amps
---
Focusrite Scarlett 2i2 (2nd Gen)

Click to compare prices: Amazon | Musician's Friend | zZounds
Focusrite is considered by many to be THE interface company and its Scarlett series are the best-selling audio interfaces in the world.
One look at the Focusrite Scarlett 2i2 and it's easy to understand why. The 2i2 is a USB-powered unit featuring two natural-sounding Scarlett mic preamps with plenty of balanced gain on tap and two newly-designed instrument inputs designed to take seriously hot guitar pickups with ease.
Best-in-class conversion and sample rates up to 192kHz / 24 bit and super-low roundtrip latency for using your plug-ins in real time also make this an attractive and useful piece for any home or project studio.
Other features include 1/4-inch balanced jack outputs for your studio monitors and one headphone output with gain control.
USB interfaces are still very popular for their combination of performance, compatibility, and price and this is pretty much the best one ever made.
Believe me, we've all made far worse choices than adding a Focusrite to our studios.
It comes bundled with a ton of cool software, too, including Pro Tools First, Focusrite Creative Pack, Ableton Live Lite, Softube Time and Tone Bundle, Focusrite's Red Plug-in Suite, and 2GB of Loopmasters samples.
Users also get their choice of one free XLN Addictive Keys virtual instrument. All are available via download upon purchase and registration of your device.
This is a great value, particularly for home recordists. You probably need at least one.
PROS:
Huge bang for the buck!

USB-powered for easy connectivity and portability!

It's a Focusrite!
CONS:
Only two inputs. Not suitable for tracking a full band.

Very very clean preamps. Love or hate?
Video review
Recording with the Focusrite Scarlett 2i2 Studio Bundle – Warren Huart: Produce Like A Pro
---
PreSonus AudioBox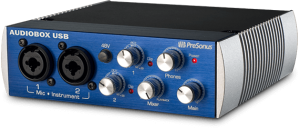 Click to compare prices: Amazon | Musician's Friend | zZounds
PreSonus is another company that's well-known and respected among recording musicians for consistently making outstanding products.
The PreSonus AudioBox USB Interface is yet another of them. It's a great piece to consider for anyone recording or podcasting on a tight budget and handles MIDI chores as well as audio.
It is a small, easy-to-use recording solution that is well-suited for anyone for whom portability is a concern. Throw one of these in your laptop case and you're good to go. It's built like a tank, too, so you know it'll work when you finally do arrive.
The AudioBox is compatible with just about any Mac or Windows machine under the sun, so no worries about cross-platform temper tantrums here. That, alone, is a selling point for many guitarists, as we tend to like things that just plug in and play.
It has the expected two audio inputs connected to Class A mic preamps, two audio outs, plus an ultra-loud headphone jack perfect for noisy tracking environments.
You get software, too, that being PreSonus' Studio One 3 Artist DAW software for Mac and Windows.
An AudioBox is just about the easiest way to get started with computer recording. What are you waiting for?
PROS:
Compatible with most Mac and Windows computers!

Headphone jack is louder than most!

Small and easy to carry around.
CONS:
Tight control spacing for big hands.
Video review
PreSonus AudioBox USB 2×2 Review / Test / Explained