A lot of guitar players out there don't always think about how each and every piece of their gear creates their unique amplified sound.
Table of Best Guitar Amp Speakers
---
Everything from the pick you hold to the mic you put in front of your amp is part of what you sound like and are each pretty important.
One of the most important parts of your rig are your guitar amp speaker or guitar amp speakers in your cabinet. Everything before the guitar speaker is colored by the speaker you choose and changing your guitar speakers can drastically alter the sound of a combo amp or speaker cabinet.
In this article, we are going to take a look at some popular choices of replacement guitar amp speakers that you might like the sound of better than what you now have. We will focus on 12-inch guitar amp speakers, as these are the most common ones used.
It's important to understand a few basics about guitar speakers before we start shopping, however.
First, impedance matters. Run an 8 Ohm head into an 8 Ohm cabinet. Some people like mismatching impedances but this can lead to disaster for your output transformer. Learn about Ohm's Law to get all the gory details. This graphic will help, too: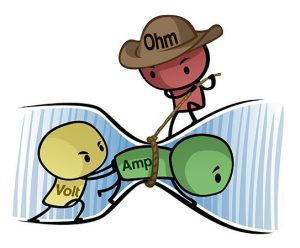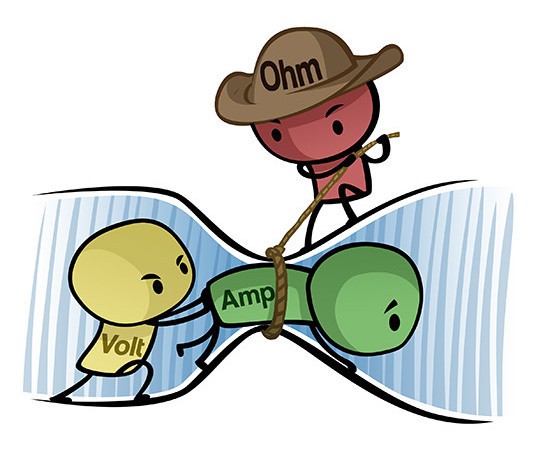 (Image from https://engineersforfuture.wordpress.com/2017/01/30/ohms-law/)
It is also good to have an idea how much speaker distortion you're after when buying new ones.
Old school Marshall cabs had 4 x 25-watt 12-inch guitar speakers, which made for a lot of speaker breakup. Some people like that, some don't. Use higher-wattage speakers with a lower-powered amp to get a tighter and more focused sound, especially in low registers. Pipe a 50-watt head into a 75-watt speaker and that speaker will take all that power and beg for more.
Beyond this info, it all becomes a matter of personal choice and application. In other words, you're on your own!
Here's Our Selection of the Best Guitar Amp Replacement Speakers
Celestion Vintage 30 60W, 12 Inch Guitar Speaker
More Info
Celestion is the first speaker company many guitarists think of, and various Celestion speakers have become part of the sound of the rock guitar.
The Vintage 30
is one of the most popular guitar amp speakers the company makes and you've probably played through one at some point whether you knew it or not.
They're everywhere, and with good reason. It is similar to the Celestion Blue but can handle more power. It has a ceramic magnet and a round copper voice coil. The Vintage 30 Celestion speakers create a sound that is thick and focused in the lows and smooth in the mids and highs.
If you're looking for an easy and global improvement to your tone, it's hard to go wrong with Vintage 30s. These are considered by many as the best guitar amp speakers out there – a solid choice from the wide range of Celestion Speakers.

Celestion Vintage 30 Guitar Speaker, 8 Ohm
The World's best-selling premium guitar speaker
Classic Celestion tone, perfectly suited to many different playing styles and genres
Characterized by a warm low-end, famously rich, vocal mid-range and a beautifully detailed top-end
---
Celestion G12M Greenback
More Info
The
Celestion G12M Greenback
is the original ceramic magnet 25-watt 12-inch guitar amp speaker that brought the sound of rock'n'roll to life. These were loaded into the 4×12 cabinets of the classic rock era and lit up stages around the world. Angus Young is just one of the many Greenback devotees out there and you might be the next one.
The Greenback is known for its amazing breakup and spectacular midrange crunch. It also has a smooth top end that helps add definition to modern high-gain guitar amps. It can be used solo with lower-powered amps and in multiples with the kind of big iron rock guitarists love the most. It's a perfect guitar amp speaker for a lot of people and should be investigated in detail. 

Celestion G12M Greenback Guitar Speaker
The G12M Greenback is the original Celestion ceramic magnet guitar speaker
Famous for its beautiful break-up and glorious mid-range crunch
An ideal speaker to bring drive and definition to modern high gain amplification
---
CELESTION G12H-75 Creamback
More Info
Another one from the Celestion speaker catalogue is
the G12H-75
– this gives its users the legendary sound of the G12H that can handle wattages normally reserved for the Creamback line. It uses a heavier magnet to beef up your sound and delivers an amazingly articulate sonic character. It's a super choice for rock lead guitarists and sounds positively gigantic when used in a 4×12 speaker cab. It handles 75 watts of power and produces tight lows and punchy highs. The heavier H magnet brings additional body, girth, and focus to any guitar amp lucky enough to be run through it. High-powered speakers in 4x12s is a tone secret many players miss out on due to the fame of the 25-watt Celestion Speakers that shaped the sound of rock guitar. A higher-powered guitar speaker will match a big amp step for step and hang tough all the way to 11. Be sure to give these guitar speakers a good, long listening test.
CELESTION T5891 G12H-75 Creamback 12 inch 75-watt...
General Specifications : Nominal diameter : 12", 305mm || Power rating : 75W || Nominal impedance : 16Ω ||...
Mounting Information : Cut-out diameter : 11.1", 283mm || Diameter : 12.2", 309mm || Magnet structure diameter...
Delivers the sonic signature of a G12H but with Cream back levels of power handling. || Heavy magnet brings...
---
EMINENCE EJ1250 12 Inch
More Info
Texas guitar slinger Eric Johnson is a true legend when it comes to playing and is famously particular about the gear he uses. When he endorses a product, people notice.
The Eminence EJ1250 is his signature guitar speaker and is everything you'd expect a speaker bearing the EJ name to be. Johnson, guitar amp guru George Alessandro, and Eminence teamed up to create this one. It features an Alnico magnet and reproduces true vintage tones with a mix of British and American characteristics.
It handles 50 watts of power and provides deep-toned lows and crisp and articulate mids and highs. It works well in combos as well as closed-back cabinets.

Eminence Signature Series EJ-1240 12" Eric Johnson...
Co-designed by amp expert George Alessandro and guitar legend Eric Johnson
The paper cone and unique basket design deliver a vintage alnico tone
Punchy lows, lower-mid growl, crisp upper-mids, and very articulate, open highs.
---
Jensen C12N 50W 12 Inch
More Info
Jensen is the king when it comes to all things Fender, 60's, and blues-related.
Many iconic Fender Blackface amps of the 1960s came stock with Jensens and those guitar amp speakers helped to define the sound of that era. Heck, Jensen speakers even came in the Silvertone guitar amps that were sold in Sears-Roebuck department stores back then that are now very collectible.
The Jensen sound is heavy in the mid frequencies, which makes it THE choice for many blues and jazz players. Rock and metal players tend not to dig these as much, but, if you have a cool old Fender or another vintage amp that needs new 12-inch guitar speakers, these Jensen C12N's are the natural pick.

---
Eminence Texas Heat 12″ Guitar Speaker
More Info
Another one from the Eminence guitar speaker line is the
Eminence Texas Heat
– a popular guitar speaker aimed at roots music players in styles ranging from country to blues to Southern rock.
It handles 150 watts of power, which means all you country pickers and Teleblasters out there can get as loud as you want to be and keep everything crisp and clean.
Its tone is punchy and aggressive in the low and mid ranges and a bit more moderate than some other guitar speakers here in the high range.
Perfect for a maple-neck Tele!

Eminence Patriot Texas Heat 12" Guitar Speaker,...
A warm and smooth 12" American guitar speaker packing a little Texas-style heat
Nice clear, fat tone with a little top end bite and a hint of British flavor
Ideal for: American Rock, Blues, and Southern Rock
---
Celestion Hot 100 Guitar Speaker
More Info
Our final pick from Celestion speakers is the
Celestion Hot 100
– the firm's latest effort to remain on the cutting edge of speaker design and technology.
It's one of the Celestion speakers that's meant to be a sort of 'jack of all trades' guitar speaker that works as well in an old tweed combo as it does with a modern full-range modeler. It's rated to handle 100 watts at 95 dB and has a frequency response of 80-5000 Hz. It has a ceramic magnet.
The Hot 100 has come to be known as Celestion's most under-appreciated guitar speaker due to the Celestion vintage reputation and famous models like Greenbacks and Vintage 30s.
Forward-thinking players will dig the 100's clear and articulate nature and the sheer volume it can put out.
If you're looking for something different yet still British and familiar, the Hot 100 might be your hot ticket to the best guitar amp speaker available.

---
Conclusion
So who makes the best guitar amp replacement speakers for you?
You'll have to decide for yourself. Do as much online research as you can, watch demos, and try to find a way to play the speakers you are considering before you buy. This may involve leaving the house, but it will be worth it.
Listen closely and buy the sound you like, not just a name you've heard, and dig how every part of your rig suddenly sounds better.
Below is a great video that compares 18 different speakers (including some of those we listed above):
18 guitar speakers comparison, Celestion, Scumback, Jensen, Eminence
Last update on 2023-12-05 / Source: Amazon