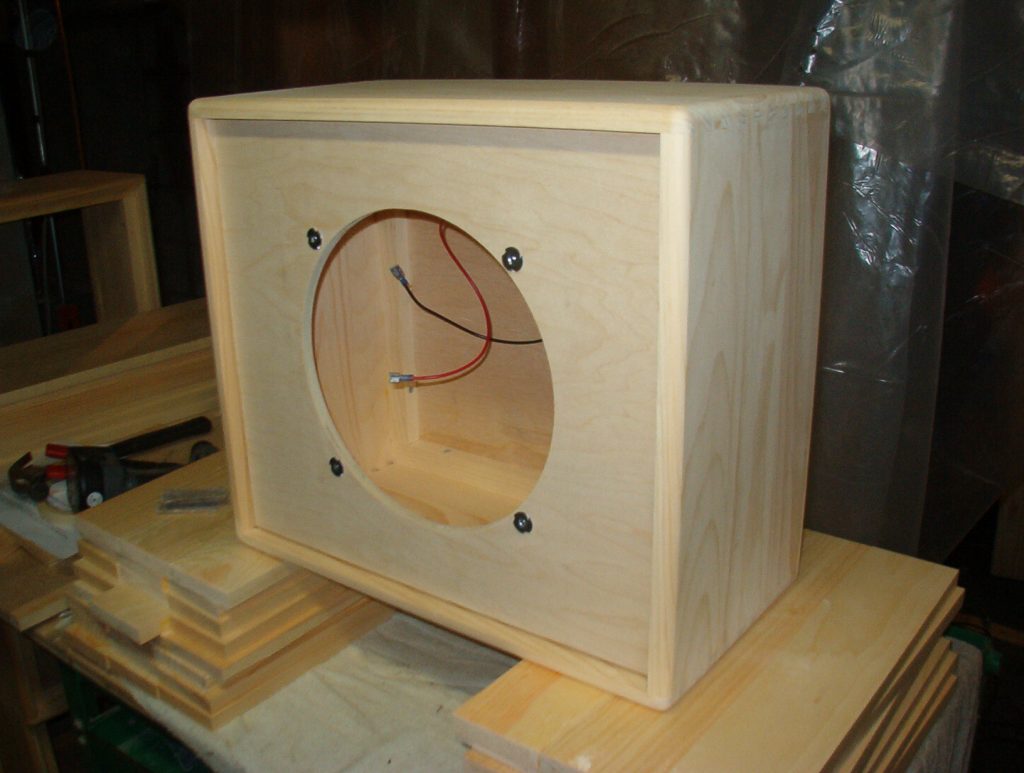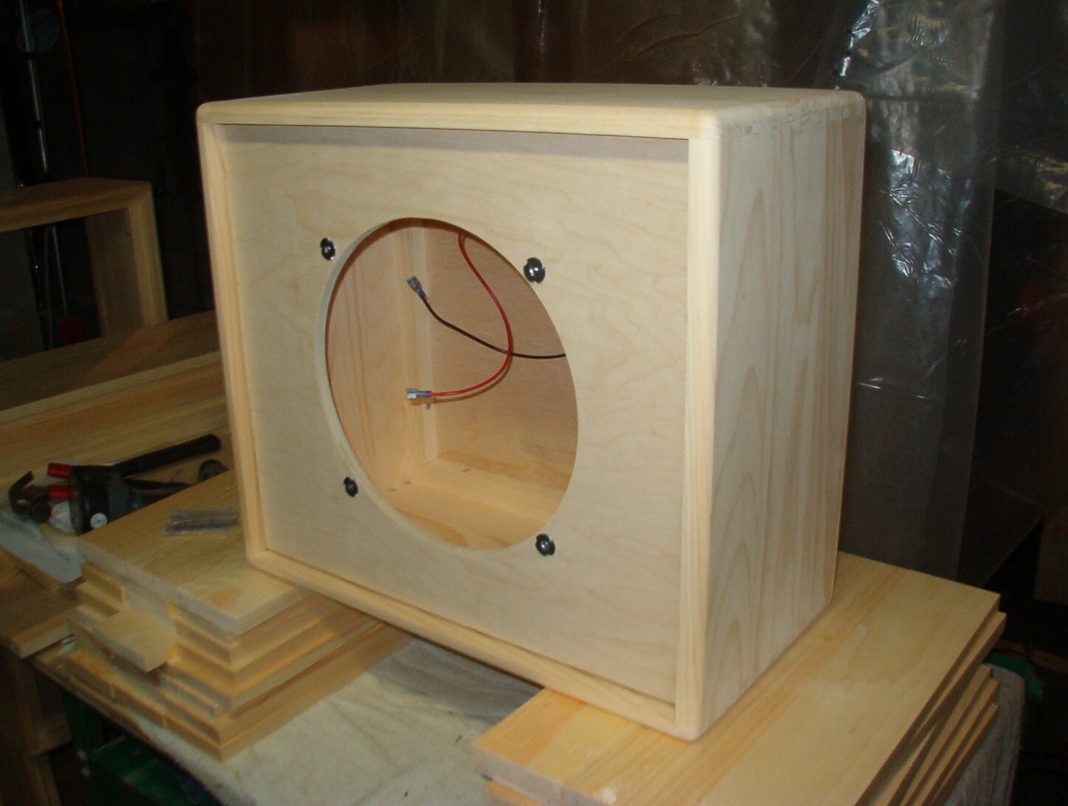 Building your own guitar amp cabinet is a great way to get into DIY projects. What might seem like a daunting task, is actually not that hard at all.
The key is to take things slow, plan the whole process thoroughly and have patience.
Today we are going to talk about how to build a guitar amp cabinet from scratch. At the end of this guide, we will also give you free guitar speaker cabinet design plans that can get you started right away. With that said, let's get right to it.
DIY Guitar Amp Cabinet – Choosing The Right Design
Before we get into specifics, the first thing you need to decide upon is what kind of cabinet you want to build.
You generally have two choices – a closed back design and an open back design. Former is arguably more complicated to build. While the latter is much more forgiving.
We highly recommend that you stick to open back amp cabs as they easier for beginners to handle. On that note, this guide will be dedicated to this type of guitar speaker cabinet design.
Size And Construction
With open back cabinets, size isn't the most critical factor. The box isn't there to amplify or shape the sound of the speaker.
Because of that, you will often see DIY in a more compact form. The much more important thing is how you build the cabinet itself. Materials used, joints and hardware can all make or break the performance of the cabinet.
Wood
No matter what kind of materials we have available today, nothing beats the good old wood.
If you are making a smaller diy guitar cab, you can go wild with the type of wood you want to use. Larger builds might require some planning and selection.
In terms of solid woods, pine boards are the most popular choice. Pine is cheap and easy to acquire, while it has all the properties necessary to support a build like this one. If that doesn't work for you, plywood is the next best thing. The thickness of wood used should be no less than 15mm. That is the bare minimum that will give your diy guitar cab good support and overall rigidity.
Joints
Discussing joints leads us into woodworking territory to a certain extent. However, the thing to remember is that joints on their own won't be enough. No matter what amount of glue you use, it is highly recommended that your guitar speaker cabinet design includes screws at least 150mm or 6 inches apart all around.
Your main concern when building a diy guitar cabinet is to eliminate any rattling or buzzing produced by ill-fitting components. Reinforcing the entire cab with screws gets the job done quite nicely while giving you a decent margin for error.
Mounting The Speaker
Once you put everything together, it is time to mount the speaker or speakers to the baffle. Speaker mounts come in a variety of different formats. No matter which one you get, it is paramount that you use quality hardware to anchor the speaker to the baffle.
Mounting bolts and T-nuts are preferable. You want to eliminate any slack and have the speaker sitting tightly on the baffle.
Hardware
In terms of diy guitar amp cabinet hardware, you have a variety of choices. You can find purpose-built hardware like corner guards, handles and similar, or you can go with a DIY approach.
Adding some reinforcement to the cabinet is always a good thing. On the other hand, if you are carpeting the cabinet, that hardware is pretty essential at holding everything together.
Choosing The Right Speaker
Selecting the speaker for your cabinet comes down to what kind of tone you are going for.
In summary, here is a comparison table of our favorites:
---
Or if it's a bass cabinet build, then you need to check out our favorite bass amp speakers:
Size always matters, but the standard choice for this type of diy guitar cab build is usually a 10 inch or 12 inch speaker.
Brands such as Celestion or Eminence will have a plethora of different speakers readily available for all kinds of cab builds. If you are planning on installing more than one speaker, make sure that the impedance ratings on both of the transducers are matching.
Mixing impedance is bad mojo and can cause quite a lot of issues once you plug it in the first time.
Wiring
When it comes to wiring the speakers, the most important thing is to get good quality wires.
We are talking silicone braided lines that are 16 gauge or thicker.
Next, you will need proper speaker jack terminals. Stay far away from guitar TRS jacks and similar hardware. These just won't do you any good even though they might look like they fit the job.
Necessary Tools
Having the right tools for a build of this type is essential. Not only will they ensure you get the job done right, but having the right tools will cut down the time necessary to complete this diy guitar speaker cabinet project.
When it comes to power tools, you have two options. You can either skip most of the woodworking by having a shop cut the wood to fit, or you can do it yourself.
If you are taking the latter route, we strongly recommend that you get a circular saw of some kind. A circular saw will get you straight edges consistently, and that matters a lot.
With that said, having a power drill or a powered screwdriver is highly recommended as well. The rest of the tools include a mallet or a hammer, preferably a rubber one, a measuring tape and some screwdrivers.
Finishing Thoughts
Building a great diy guitar speaker cabinet comes down to proper planning, patience and having the right tools for the job. Measure everything several times before cutting and you should be fine.
On that note, here are some free plans for your guitar speaker cabinet design. You can use these to either make the cab or to get a general idea of what a solid cab should look like.
Since open back speaker cabs are generally forgiving, feel free to modify these designs or come up with one of your own.
Finally, remember to have fun with this project.
Get started with these free plans:
Deluxe Cabinet Schematic – (5E3CAB) – Page 1
Deluxe Cabinet Schematic – (5E3CAB) – Page 2
Deluxe Cabinet Schematic – (5E3CAB) – Page 3
Last update on 2023-09-26 / Source: Amazon